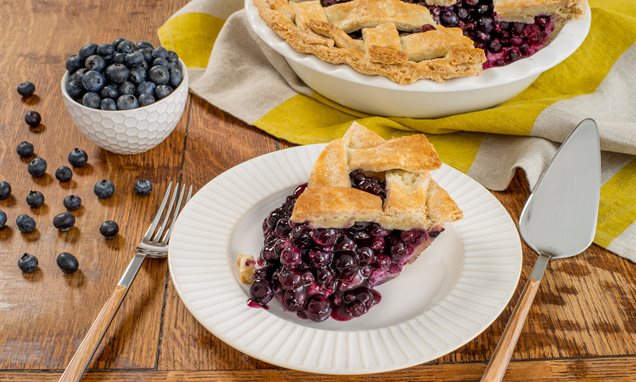 Blueberry Pie
Considered as one of the easiest pies to make, try out this classic Blueberry Pie this season.
Ingredients
How to Prepare
Ingredients
Pie Crust
1 package
Shirriff Pie Crust
Filling
0.25 cup
granulated sugar white
1 tsp
lemon zest (optional)
How to Prepare:
Preheat oven to 425°F/220°C. In a large bowl combine blueberries, sugar, lemon juice and zest (if using), cornstarch and salt. Let filling sit at room temperature.
Prepare the pie crust as instructed on the package. Fit the first dough into the pie plate and set aside. Roll out the second dough. Using a sharp knife or a pastry wheel, cut the dough into 8 even strips, 1" wide.
Fill reserved pie shell with blueberry mixture. Space 4 of the cut strips over the filling horizontally. Lay the other 4 strips lengthwise. Trim any overhang and pinch dough together to seal.
Bake 45-50 minutes. If crust browns quickly, cover the edges with a foil ring. Set on a wire rack to cool for 3-4 hours before serving.
PLEASE RATE THIS RECIPE
How did this recipe go?
PLEASE RATE THIS RECIPE
How did this recipe go?
More delicious ideas for you