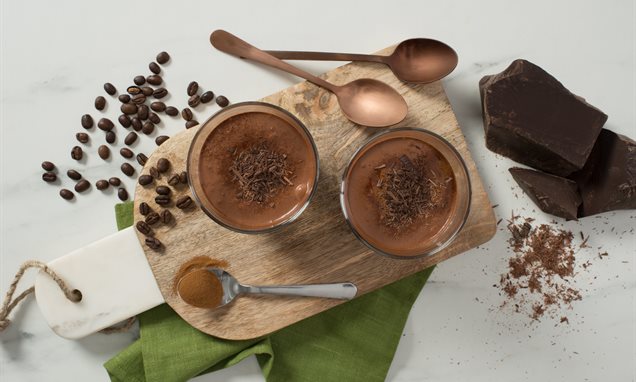 Chocolate Espresso Cream
A light and creamy dessert with the perfect combination of chocolate and espresso.
Ingredients
How to Prepare
Ingredients
Chocolate Espresso Cream
Dr. Oetker Gelatin sheets
about 2.25 cup
dark chocolate chips
How to Prepare:
Soak the gelatin sheets according to the instructions on the package. Use a vegetable peeler to shave some chocolate flakes to set aside and use for decoration.
On a stovetop, add milk, sugar and espresso powder in a small pot. Set heat to medium-high; once steam starts to rise from the pot, add chocolate and stir until melted.
Turn the heat off. Take the gelatin sheets and slightly squeeze to remove excess water. Put the sheets in the milk chocolate mixture and stir to dissolve. Put the pot in the fridge to cool down, mixing occasionally.
Whip the cream with either a whisk, a hand mixer or stand mixer until slightly thickened. When the milk chocolate mixture begins to thicken, remove from the fridge and add the cream. Immediately pour the mixture into dessert jars or small dishes and place in the refrigerator for at least 3 hours.
To decorate, sprinkle dessert with the chocolate shavings and excess espresso powder as desired.
PLEASE RATE THIS RECIPE
How did this recipe go?
PLEASE RATE THIS RECIPE
How did this recipe go?
More delicious ideas for you