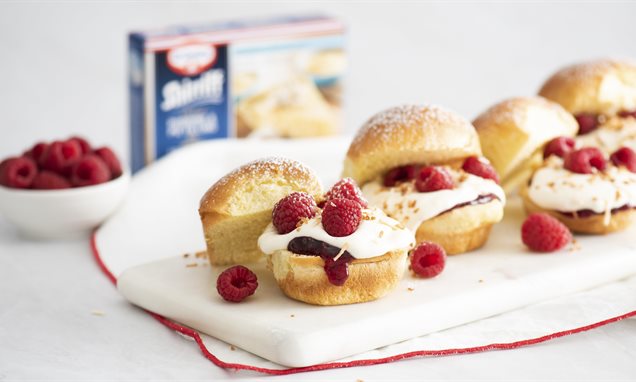 Easy Raspberry Coconut Sliders
Impress your family and friends with a fresh and luscious dessert that looks complicated – but is so simple to prepare.
Ingredients
How to Prepare
Ingredients
Sliders
1 pouch
Shirriff Coconut Pudding & Pie Filling
2 tbsp
unsweetened shredded coconut, toasted
0 cup
Icing sugar, sifted and divided
How to Prepare:
Prepare pudding as per package directions. Cover surface directly with plastic wrap; refrigerate for at least 4 hours or up to 24 hours or until chilled through.
Using electric mixer, beat whipping cream until stiff; stir half into pudding. Gently fold in remaining whipped cream until no streaks remain.
Spread jam over bottom halves of slider buns. Top with coconut cream and raspberries. Sprinkle with toasted coconut and cap with remaining buns. Dust with icing sugar. Serve immediately.
Tips
• Raspberries can be replaced with fresh strawberries, blueberries or chopped pineapple.
• For added indulgence, drizzle fruit with melted chocolate before capping and garnishing.
PLEASE RATE THIS RECIPE
How did this recipe go?
PLEASE RATE THIS RECIPE
How did this recipe go?
More delicious ideas for you