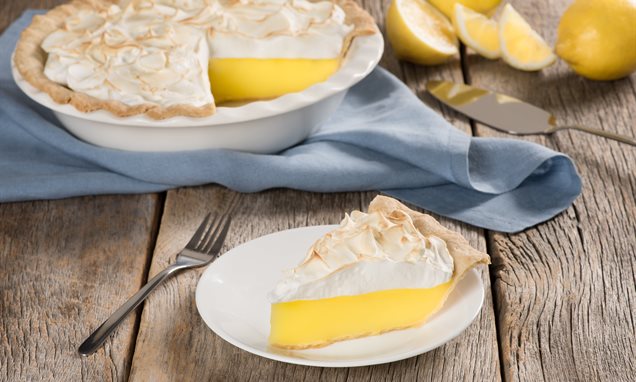 Lemon Meringue Pie
Lemon Meringue Pie has never looked so good… or been so easy to prepare. Our best-selling Shirriff Lemon Pie Filling is the easiest way to this delicious d
Ingredients
How to Prepare
Ingredients
Pie Crust
1 package
Shirriff Pie Crust Mix
Lemon & Meringue Filling
1 package
Shirriff Lemon Pie Filling & Dessert Mix
How to Prepare:
Pie Crust
Preheat oven to 425°F/220°C. Prepare the pie crust as instructed on the package. Divide dough in two portions and roll out one portion to fit the pie plate. Reserve the second portion for another pie. Bake the pie crust for 8-10 minutes and place on a wire rack to cool.
Meringue
Separate 2 fresh eggs; put two egg yolks aside into a saucepan and egg whites into mixing bowl.
Beat 2 fresh egg whites on medium until soft peaks form (30 sec).
Gradually beat in 1/4 cup sugar. Beat on high until stiff peaks form (approx. 2 mins).
Lemon Filling
In a saucepan with 2 slightly beaten egg yolks, add 1/3 cup (83 mL) cold water, stir, then add pouch contents, and whisk until smooth.
Add in 2 cups (500 mL) hot water and mix well.
Cook over medium high heat, stirring continuously (approx. 15 min). When bubbles first break the surface, continue to boil and stir for 30 sec. Remove from stove top, and stir in 1 tbsp. (15 mL) butter.
Lemon Pie
Cool 5 min., stirring twice. Product will continue to thicken as it cools.
Pour the lemon pie filling into baked, cooled 9" (23 cm) pie shell. Top pie with meringue to the edges while filling is still hot.
Bake at 425°F (180°C) 5-7 min. or until golden. Cool on counter for 3 hours before serving.
PLEASE RATE THIS RECIPE
How did this recipe go?
PLEASE RATE THIS RECIPE
How did this recipe go?
More delicious ideas for you