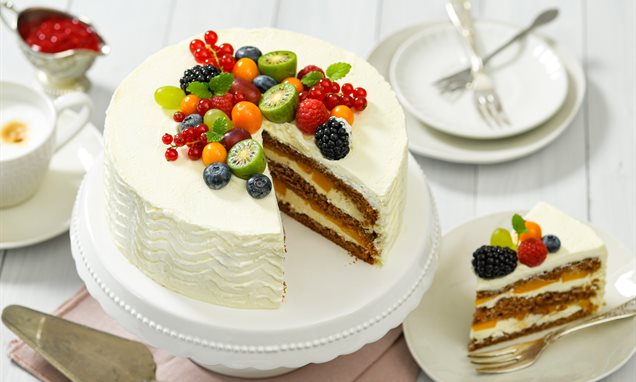 Mascarpone Fruit Cake
A fruity cake with a creamy mascarpone filling.
Ingredients
How to Prepare
Ingredients
FOR THE CAKE
1 package
Dr. Oetker Vanilla Sugar
1 tsp
Dr. Oetker Baking Powder
MASCARPONE FILLING
1.5 cup
canned peaches drained
1 sachet
Dr. Oetker Gelatin Powder
ICING
1 package
Dr. Oetker Vanilla Sugar
1 package
Dr. Oetker Whip It
FOR DECORATION
fresh fruit e.g. grapes, kiwi, blackberries, raspberries, blueberries
How to Prepare:
Prepare
Wrap a sheet of parchment paper in the springform pan. Preheat oven to 350 °F.
Prepare cake mix
Beat the eggs in a mixing bowl on the highest setting for 1 minute until fluffy. Sprinkle in sugar mixed with vanilla sugar while stirring in. Beat the mixture for another 2 min. Mix the flour with baking powder and cocoa and stir in briefly on the lowest level. Distribute the batter evenly in the mold. Put the dish on the rack in the oven.
Baking time: about 30 minutes
Remove the base from the tin, turn out onto a cake rack lined with baking paper and leave to cool.
Carefully peel off the baking paper. Cut the cake base in half horizontally. Place the base on a cake plate and place the cleaned springform tin around it.
Prepare mascarpone filling
Drain the peaches and cut into small pieces. Mix the mascarpone, sugar and lemon juice in a mixing bowl. Whip the cream with the gelatin in a mixing bowl with the mixer until stiff. Fold the cream into the mascarpone cream. Spread half of the cream on the bottom layer and spread half of the peaches on top. Place the middle base, spread the remaining cream on top and distribute the peaches on top. Put the top layer on top and place the cake in the fridge for at least 2 hours.
Prepare whipped cream icing
Loosen and remove the springform rim before serving. Put the cold whipped cream in a mixing bowl and use the mixer to beat the vanilla sugar and Whip It until stiff. Spread the icing on the cake and smooth it out. Decorate the edge with a cake topping comb.
Decorate
Wash fruit and place it decoratively on the mascarpone cake. Chill the cake until ready to serve.
PLEASE RATE THIS RECIPE
How did this recipe go?
PLEASE RATE THIS RECIPE
How did this recipe go?
More delicious ideas for you