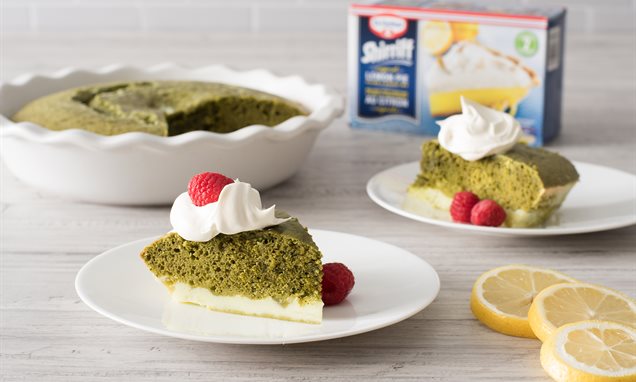 Matcha Lemon Pudding Cakes
This old-fashioned pudding cake is updated with the fragrant flavour of matcha tea.
Ingredients
How to Prepare
Ingredients
Matcha Lemon Pudding Cakes
1 package
vanilla cake mix
0.25 cup
matcha green tea powder
Shirriff Lemon Pie Filling
0.25 cup
Icing sugar, sifted and divided
How to Prepare:
Preheat oven to 325˚F (160˚C). Grease two round 9-inch baking dishes; set aside.
Prepare cake mix according to package directions; whisk in matcha powder. Scrape half of the batter into each of the prepared baking dishes; smooth top.
Using electric mixer, beat eggs until light and creamy. Beat in Lemon Pie Filling powder. Stir in milk and 1/3 cup (75 mL) water. Spoon half of the pudding mixture onto top of each cake; smooth tops.
Place each baking dish on parchment paper– lined baking sheet. Bake for 40 to 45 minutes or until cake tester inserted into centre of cake comes out clean. (Note: pudding layer will sink to the bottom. When inserting cake tester, insert in the middle of the cake layer, not into bottom pudding layer). Let cool completely on rack.
Meanwhile, whip cream until stiff peaks form. Stir in icing sugar. Scoop cake and pudding layer onto serving dishes. Top with dollop of whipped cream.
Cook's Tip
For an extra-green St. Paddy's Day cake, stir in a few drops of green food colouring.
Cook's Tip
Serve with a dusting of icing sugar if desired.
PLEASE RATE THIS RECIPE
How did this recipe go?
PLEASE RATE THIS RECIPE
How did this recipe go?
More delicious ideas for you