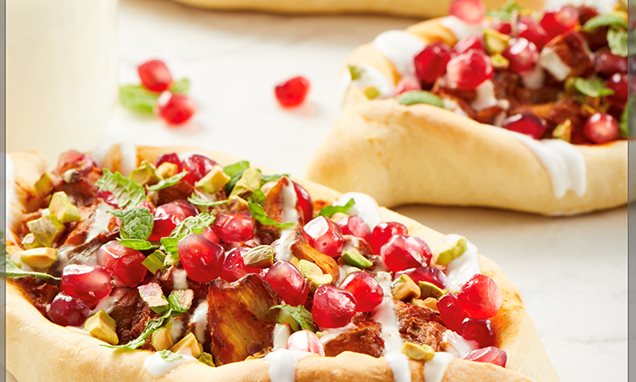 Vegetarian Turkish Pizza
Vegetarian Turkish Pizza made with Dr. Oetker Pizzaiolo Kits
Ingredients
How to Prepare
Ingredients
Pizza
1 package
Dr. Oetker Pizzaiolo Kits
160 ml
Irresistibles goat feta
2 tbsp
Irresistibles 0% plain Greek yogurt
0.5 cup
pomegranate arils
3 tbsp
chopped pistachios
0.25
mint coarsely chopped
How to Prepare:
In a large bowl, combine crust mix with warm water until well blended. Knead dough into a smooth ball, about 2-3 minutes. Cover and let rest for at least 15 minutes.
Meanwhile, heat oil in a large non-stick skillet over medium high heat. Sauté onion for 1 minute; add eggplant, cumin, cinnamon, and chili flakes and cook further 3 minutes. Stir in both pouches of pizza sauce and diced feta. Set aside to cool.
Cut dough into 6 equal pieces. On a lightly oiled surface; press or roll each piece into a rough 8-inch oval. Spread 1/6 of eggplant filling onto centre of the oval dough; leaving a ½ inch border. Pinch the dough together at opposite ends to create 2 tapered ends. Repeat the steps with remaining dough.
Place pizzas onto a large parchment lined baking sheet and bake for 15 minutes.
Drizzle with yogurt, and sprinkle with pomegranate arils, pistachio and mint to serve.
PLEASE RATE THIS RECIPE
How did this recipe go?
PLEASE RATE THIS RECIPE
How did this recipe go?
More delicious ideas for you