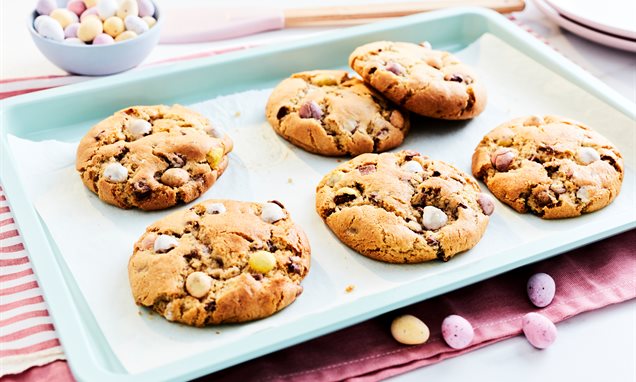 Chocolate Mini Egg Cookies
These easy cookies come packed with chopped mini eggs and a chunk of milk chocolate. Warm and freshly baked for a gooey, chocolatey centre!
Ingredients
How to Prepare
Ingredients
For the cookies
110 grams
unsalted butter (softened)
100 grams
light brown sugar
50 grams
granulated sugar
1 tsp
vanilla extract (5 ml)
5 grams
Dr. Oetker Baking Powder (1 tsp)
0.5 tsp
baking soda (2.5 g)
100 grams
milk chocolate chunks
150 grams
chocolate mini eggs (crushed)
40 grams
milk chocolate (in squares)
Hints
Chef's Tips
Your cookies will keep for about 5 days stored at room temperature in an air tight container.
Chef's Tip
You can freezer you cookie dough balls for up to 3 months, baked from frozen and add an extra 5 minutes onto the baking time.
How to Prepare:
Line 2 large baking trays. Add butter and sugars into a large bowl and whisk together until smooth and paler in colour.
Add the egg and vanilla extract. Whisk again until smooth. Sieve over the flour, corn flour, baking powder and baking soda and mix until the dough comes together. Then, mix in the chocolate chunks and crushed mini eggs.
Divide cookie dough into 100g pieces and flatten each piece of dough. Put a square of chocolate in the centre of each piece of dough. Wrap the dough around the chocolate piece and roll into a ball. Repeat for each piece of cookie dough and place onto your lined baking trays spaced well apart. Put leftover mini eggs into the tops of the cookie dough balls.
Put trays of dough into the freezer for 30 minutes. 10 minutes before baking , preheat your oven to 200°C. Bake your cookies for 15-18 minutes until golden brown. Leave to cool on the tray for 10 minutes and then place onto a cooling rack.
Cookies are best served warm and freshly baked for a wonderful gooey, chocolatey centre. You can pop them back in the oven for a few minutes to re-heat if left to cool.
PLEASE RATE THIS RECIPE
How did this recipe go?
PLEASE RATE THIS RECIPE
How did this recipe go?
More delicious ideas for you