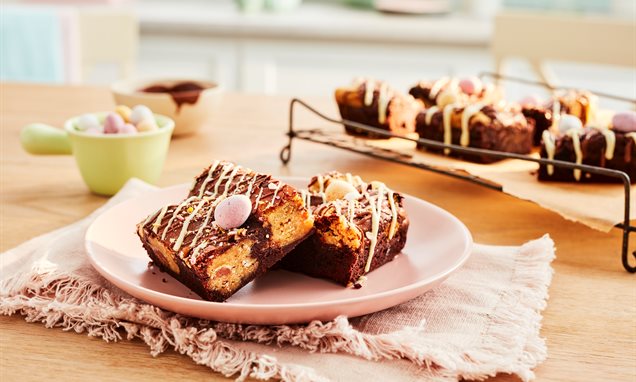 Mini Egg Brownies
These brownies feature mini eggs wrapped in cookie dough and baked into a brownie. Just a few simple steps to wow your loved ones with the perfect treat!
Ingredients
How to Prepare
Ingredients
For the cookie dough
100 grams
unsalted butter (softened)
75 grams
light brown sugar
1 tsp
vanilla extract (5 ml)
5 grams
Dr. Oetker Baking Powder (1 tsp)
100 grams
chocolate mini eggs (crushed)
For the brownie
135 grams
unsalted butter
1 tsp
vanilla extract (5 ml)
35 grams
fine dark cocoa powder
To decorate
50 grams
chocolate mini eggs (some whole and some crushed)
Hints
Chef's Tips
Your brownies will keep for up to a week in an airtight container.
Chef's Tips
Your brownies will freeze for up to 3 months, once cooled wrap well in cling film and pop in the freezer. To defrost remove from the freezer and allow to defrost for a few hours at room temperature. We recommend freezing it undecorated.
How to Prepare:
For The Cookie Dough
Preheat your oven to 180°C. Grease and line a 9" square baking pan. Put butter and sugar into a large bowl and whisk together until smooth and pale in colour.
Add the egg yolk and vanilla extract and whisk again until smooth. Sieve over the flour and baking powder. Mix until the dough comes together. Finally, pour in the crushed mini eggs and mix into the cookie dough.
Roll your cookie dough into small balls of dough, then place onto a board lined with parchment paper and refrigerate.
For The Brownie
Melt the chocolate and butter in the microwave in 30 second bursts, stirring between each burst until the mixture is melted. Add the sugar and beat until smooth and combined.
Add the eggs and vanilla extract, then whisk on a high speed for 2-3 minutes. This is easiest to do with a freestanding or electric hand whisk.
Sieve the flour and cocoa powder on top of the mixture and fold through until just combined. Pour a thin layer of brownie into the base of your prepared pan. Add in the balls of cookie dough so they are randomly scattered in the pan. Pour your remaining brownie mix over the top of the cookie dough and smooth the top.
Put in the oven and bake for 35-40 minutes, until the edges of your brownie have set. Leave to cool in the baking pan.
To Decorate
Once brownies have cooled, melt the chocolate separately in the microwave in 20 second bursts stirring between each burst. Use a spoon the drizzle the melted chocolate on top.
Sprinkle some mini eggs on top – some crushed, some whole. Leave your chocolate to set and then slice your brownies.
PLEASE RATE THIS RECIPE
How did this recipe go?
PLEASE RATE THIS RECIPE
How did this recipe go?
More delicious ideas for you