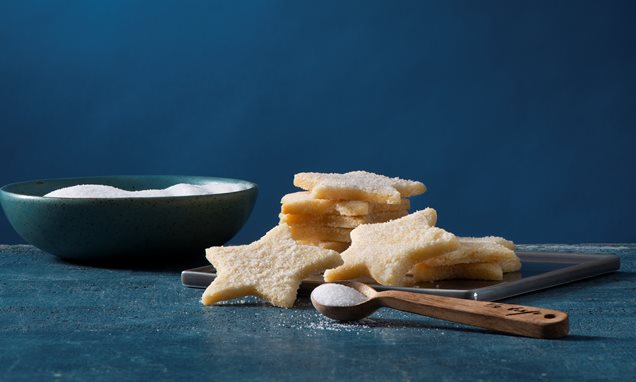 Star Sugar Cookies
Star Sugar Cookies With Dr. Oetker Vanilla Sugar
Ingredients
How to Prepare
Ingredients
Star Sugar Cookies
2 sticks
unsalted butter room temperature
1.75 cup
granulated sugar
2.75 cup
all-purpose flour
1 package
Dr. Oetker Vanilla Sugar sprinkled on top
How to Prepare:
Preheat the oven to 350°F (176°C). Line a couple baking sheets with parchment paper.
In the bowl of a stand mixer fitted with the paddle attachment, beat the butter and granulated sugar until light and irresistibly fluffy. Add the egg and vanilla and mix until combined. Gently fold in the salt and flour just until combined.
Roll out the dough between a couple pieces of parchment paper until it's about 1/2-inch thick.
Remove the top piece of parchment and, using a 5-point star cookie cutter cut out cookies and place them on the prepared sheets, spacing them about 2 inches apart. (If you find the dough too soft to cut with a cookie cutter, transfer the dough, still sandwiched between the parchment paper, to the refrigerator for at least 30 minutes. Then try again.) Sprinkle the cookies with coarse sugar.
Bake for 10 to 13 minutes, until the edges of the cookies just begin to brown. Let the cookies cool completely on wire racks before showering them upon your sweetie.
PLEASE RATE THIS RECIPE
How did this recipe go?
PLEASE RATE THIS RECIPE
How did this recipe go?
More delicious ideas for you