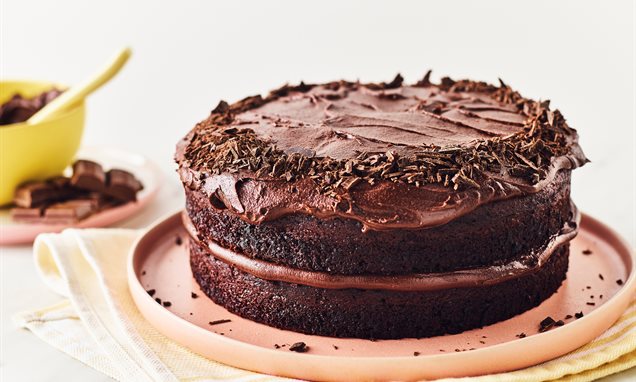 Vegan Chocolate Cake
This vegan chocolate cake has a delicious, rich chocolate flavour.
Ingredients
How to Prepare
Ingredients
For the Cake
1.25 cup
soy milk (1 1/4 cup)
1 tbsp
lemon juice (juice of 1/2 lemon)
0.75 cup
apple sauce (3/4 cup) (mixed with 1 tsp Baking Powder)
1.5 tsp
Dr. Oetker Baking Powder (1 1/2 teaspoon)
1.5 tsp
baking soda (1 1/2 teaspoon)
1.75 cup
flour (1 3/4 cup + 2 tbsp flour)
0.75 cup
dark cocoa powder (3/4 cup)
1.5 cup
brown sugar (1 1/2 cup)
0.66 cup
vegetable oil (2/3 cup)
For the Icing
1 cup
vegan butter (softened)
0.75 cup
dark cocoa powder (3/4 cup)
3.75 cup
powdered sugar (3 3/4 cups)
2 tbsp
vegan dark chocolate (finely chopped)
How to Prepare:
For the Cake
Preheat the oven to 350°F. Grease and line 2 x 8" round cake tins. Combine the soy milk and lemon juice in a small bowl. It should begin to curdle. Leave to one side.
Add the flour, baking powder, baking soda, cocoa powder and brown sugar bowl and mix together until well combined and make a well in the centre. In a separate bowl mix together the apple sauce and 1 tsp of baking powder.
Pour the vegetable oil, vanilla extract and apple sauce mixture into the dry ingredients and whisk together until just combined. Then, add the soy milk mixture and whisk into the batter.
Divide the batter equally between the 2 prepared cake tins and bake for 30-35 minutes until risen and a skewer inserted into the centre comes out clean. Leave to cool in the tins for 15 minutes and then transfer to a wire rack to cool completely.
To decorate
Once the cakes are cool using a serrated knife cut to domed top off one of the cakes and place on a cake board or serving plate.
In the bowl of your stand mixer, combine the powdered sugar, cocoa powder, vegan butter, vanilla, and approximately half of the soy milk.
Begin mixing on low speed and gradually increase to a higher setting until the mixture becomes thick, smooth, and creamy. Slowly incorporate the remaining soy milk.
The frosting should have a thick but spreadable consistency. If it's too thick, add another tablespoon of soy milk. If it's too thin, add a small amount of powdered sugar until desired thickness is achieved. Spread half the icing over the layer of cake on the serving plate. Place the other layer of cake on top and sandwich together.
Spread the remaining icing on the top of the cake. Finish the cake with a sprinkling of finely chopped chocolate!
PLEASE RATE THIS RECIPE
How did this recipe go?
PLEASE RATE THIS RECIPE
How did this recipe go?
More delicious ideas for you