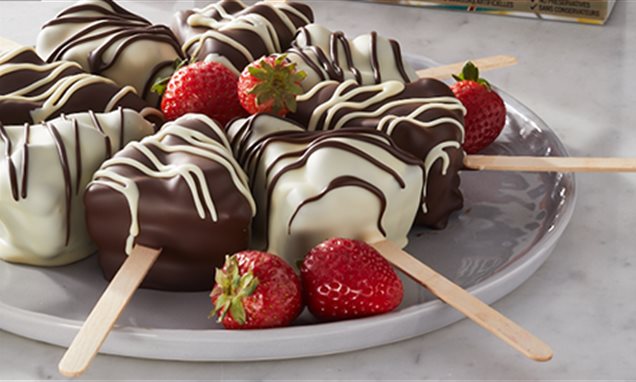 Double Dipped Cheesecake Pops
Double Dipped Cheesecake Pops using Dr. Oetker Patisserie Strawberry Cheesecake
Ingredients
How to Prepare
Ingredients
Cheesecake Pops
1 package
Dr. Oetker Patisserie Strawberry Cheesecakes
1.5 cup
white chocolate chips
1.5 cup
dark chocolate chips
assorted sprinkles (optional)
How to Prepare:
Cut the frozen cheesecake into 8 equal wedges.
Turn a slice on its side and using a paring knife, make a cut into the middle edge of each slice far enough to insert a popsicle stick 1-inch deep. (Tip: Wrap a piece of parchment over the slice and hold firmly to help keep the slice from breaking apart)
Repeat with all slices and place on a large parchment lined baking sheet. Keep frozen until ready to dip.
Place the white chocolate and dark chocolate in 2 resealable bags; add 3 tbsp coconut oil to each bag and seal.
Sit bags in a bowl of boiled water for about 5 minutes until melted.
Cut a corner from each bag and pour the white and dark chocolate into 2 large narrow glasses.
Individually dip 4 of the slices into the white chocolate and 4 into the dark chocolate, letting the excess drip off before replacing each onto the baking sheet. (Tip: ensure to coat the entire slice along with a bit of the stick as this will hold the slice in place)
Place slices back into freezer for 5 minutes to set. When set, dip each slice into the opposite chocolate coating.
Drizzle with chocolate and add sprinkles if desired. Garnish with fresh strawberries and keep refrigerated.


Can be kept chilled for up to 2 days.
PLEASE RATE THIS RECIPE
How did this recipe go?
PLEASE RATE THIS RECIPE
How did this recipe go?
More delicious ideas for you