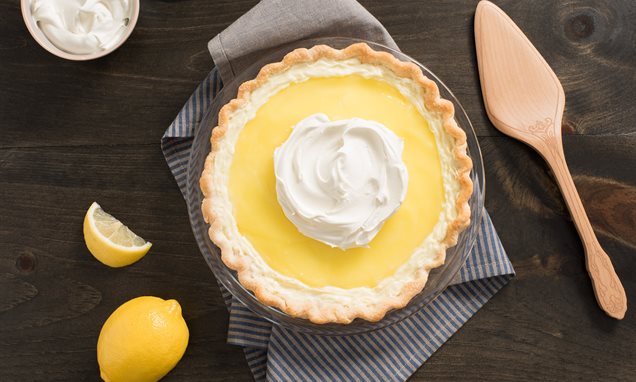 Luscious Lemon Cream Cheesecake
After something spicy, follow with something sweet. The cool flavours of this cheesecake are a perfect finish to a zesty meal.
Ingredients
How to Prepare
Ingredients
Pie Crust
1 package
Shirriff Pie Crust Mix
Filling
1 pouch
Shirriff Lemon Pie Filling
1 package
cream cheese (250g, softened)
How to Prepare:
Preheat oven to 425°F/220°C. Prepare the Shirriff Pie Crust Mix as instructed on the package. Divide dough in two portions and roll out one portion to fit the pie plate. Reserve the second portion for another pie. Bake the pie crust for 8-10 minutes and place on a wire rack to cool.
Cook lemon pie filling according to package directions, but use 2 whole eggs, 1/3 cup (75 mL) cold water and 1 ¾ cup (425 mL) boiling water. Cool 5 minutes.
Beat cream cheese until smooth. Reserve 1 cup (250 mL) pie filling for top. Gradually blend remaining pie filling into cream cheese. Pour into crust; refrigerate 15 minutes.
Spread reserved pie filling over top. Refrigerate 3 hours. Garnish with whipped cream and lemon slices, if desired.
PLEASE RATE THIS RECIPE
How did this recipe go?
PLEASE RATE THIS RECIPE
How did this recipe go?
More delicious ideas for you