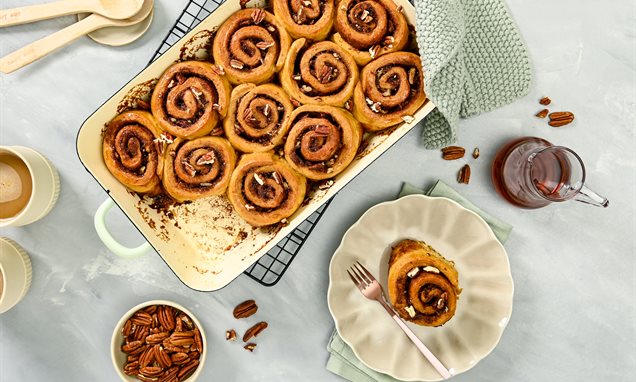 Vegan Sweet Potato Pecan Cinnamon Rolls
These vegan cinnamon rolls are easy to make and the perfect comfort food for brunch or as a treat on a cozy winter day at home.
Ingredients
How to Prepare
Utensils
For the rectangular form
Ingredients
For the yeast dough
150 grams
boiled sweet potatoes
7 grams
Dr. Oetker dry yeast
1 tbsp
Dr. Oetker Vanilla Extract
For the filling
60 grams
coconut blossom sugar
How to Prepare:
First cook the sweet potatoes in a microwave until soft, turning every few minutes. This will take approx. 9 minutes. When cooked, finely mash with a fork and set aside to cool.
Heat the almond drink in a saucepan until warm or in a microwave for about 40 seconds.
Combine the flour, yeast, date sugar, cinnamon and salt in a bowl. Mix well.
When the sweet potatoes have cooled, slowly combine the wet and dry ingredients. Mix thoroughly. Knead the dough on medium speed for about 8 minutes and then cover with clingfilm or a loose towel. Let the dough rise in a warm area for about 1 hour or until it has doubled in size.
Cream the sugar, cinnamon, and butter together. Chop the pecan nuts.
On a lightly floured surface, roll the dough out to approx. 25 x 50 cm. Spread your cinnamon butter filling over the rolled out dough. Evenly sprinkle the pecan nuts over the cinnamon butter.
Carefully roll the dough starting from the long side to the bottom edge. Evenly cut into 12 slices.
Place the slices in a prepared baking dish or mould, cover and leave to rest for 30 minutes. Preheat your oven.

Top/Bottom Heat: 180°C
Fan Assisted: 160°C
After 30 minutes - it's time to bake your cinnamon rolls.
Baking time: 40 Minutes
Once baked, place the baking dish on a cooling rack. Glaze the rolls with maple syrup and leave to cool in their baking dish. Enjoy!
PLEASE RATE THIS RECIPE
How did this recipe go?
PLEASE RATE THIS RECIPE
How did this recipe go?
More delicious ideas for you