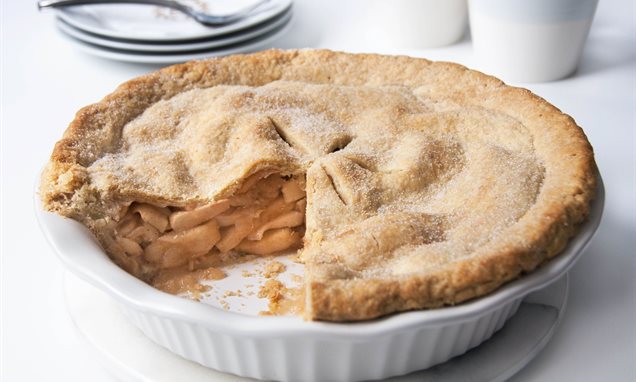 Apple Pie
Apple Pie - A timeless fall classic!
Ingredients
How to Prepare
Ingredients
Pie Crust
1 package
Shirriff Pie Crust
Filling
0.25 cup
granulated sugar
0.25 cup
brown sugar lightly packed
7
apples (2 1/2 lbs.), peeled, cored, and sliced 1/4" thick
1.5 tbsp
Dr. Oetker Corn Starch
How to Prepare:
Preheat oven to 425°F/220°C.
In a large bowl combine sliced apples, sugars, lemon juice, ground cinnamon, nutmeg, and salt. Let filling sit at room temperature. Prepare a top and bottom pie crust as instructed on the package.
Fill pie crust with apple mixture, pouring off excess moisture. Set the top crust over the apples. Pinch together the two layers to seal the pie. Make five 2-inch slits from the center of the pie out towards the edge of the pie to allow steam to escape.
Bake 45-50 minutes. A knife should easily pierce apples. If crust browns quickly, cover the edges with a foil ring. Set on a wire rack to cool for 3-4 hours before serving.
PLEASE RATE THIS RECIPE
How did this recipe go?
PLEASE RATE THIS RECIPE
How did this recipe go?
More delicious ideas for you